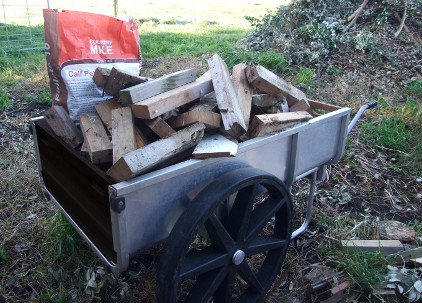 I love my Bernie's Barrow. I use it mostly around the section, doing the lawns, gardening, trimming hedges, and getting firewood. It holds so much more than a normal wheel barrow, is easy to push on all sorts of ground, even with one hand and very easy to tip loads on to the rubbish heap.
We have recently demolished a house, and I found it very useful in gathering up small bits of wood and other rubbish around the site. This was transported and tipped on to the rubbish heap without having to double handle it, while not worrying about getting a flat tyre.
I have also used it when spraying. With the two wheels and the deck being flat, it's very steady preventing the spray equipment from falling over plus it can hold all that is needed to do this job. It is also easy to take apart and put on the ute to transfer to other sites. We have found it to be extremely well-made and the design has been very well thought out for ease of use and durability. I most definitely would never part with it.
Debbie, Hawera, South Taranaki.
Jo-Anne and I saw your Bernie's Barrow at the Kapiti Sustainability show in 2013.
I was very impressed with the quality engineering, Jo-Anne was taken by the size and ease of handling, so we bought barrow number 005 that day. Five years on and we have not been disappointed.
We live on a large section and have a couple of acres of orchard, gardens and forest around our house. We have abandoned the traditional wheel barrow now, and use the Bernie's Barrow for everything.
Carting firewood, lawn clippings, branches to the mulcher, mulch to the garden, topsoil, rocks, etc has never been easier. Take off the end board and materials flow effortlessly from the barrow. It is exceptionally well balanced and Jo-Anne was so right when she identified it was easy to handle. The barrow's capacity saves us time and gets the larger jobs done more efficiently.
I also use the barrow to cart tools and safety gear when I am pruning. The chainsaw, petrol, oils, secateurs, hand saw, chaps, ear-muffs and safety hat go with me so no more running back to the garage half way through the job.
A great barrow and a 'must have' for our Lifestyle block. As a fellow engineer I still admire the engineering excellence that went into the design and construction.
Jo-Anne and Michael, Waikanae, Kapiti Coast.