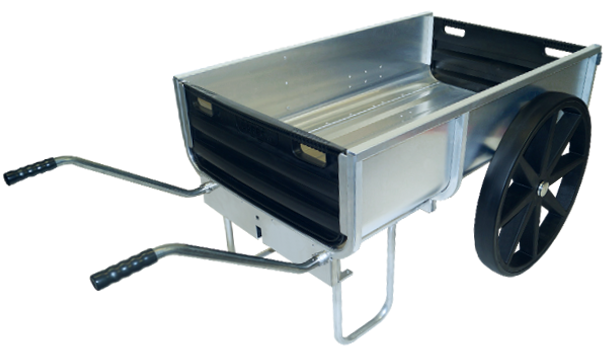 LIGHTWEIGHT
(28kg empty)
Strategically designed using aluminium and plastic ensures construction is strong & durable, but extra light and easy to push, even when fully loaded.
(Maximum load 250kg)
EXTRA-LARGE CAPACITY
4 times the capacity of a standard wheelbarrow.
(1/4 of a cubic metre).
LIFT-OUT PANELS
Recycled polypropylene end panels remove for easy transportation of long tools, branches and construction timber etc.

ERGONOMIC EXCELLENCE
Comfortable handles and
well-positioned wheels take the load off your back.
EASY TO MANOEUVRE
Two large wheels roll easily and ensure superior balance, mobility and handling.
No more accidental tipping, and no more flat tyres!
I'm really impressed - what a clever piece of quality engineering - well done you on developing it and bringing it to the market! It's going to be very useful for years to come.
I'm so impressed with this barrow. Great, great invention. Absolutely brilliant
The barrow is the most utilised, versatile asset on our property
My staff are happier and take less days off for physical stress injuries. It's integral to our operation
Beautiful workmanship, ingenious design. It is pure quality
Several businesses have invested in multiple barrows as more benefits are realised.
Hello Bernie,
Lovely to meet you today at Bloom in the Bay, at Tauranga racecourse.
It took less than 30 seconds to install the new High Sides Kit to our early model Bernies Barrow (#0074) and we now look forward to many more years of further service by Bernie in our rural garden.
Thank you for designing and producing such a versatile and quality product. We have found our Bernie to be exceptionally robust and useful in a multitude of gardening tasks, often surpassing our Kubota compact tractor and front end loader, in terms of capacity and manoeuvrability. The High Sides Kit and the optional ride-on mower drawbar attachment significantly increases it's usefulness, especially as we are both starting to reach more senior years...
Oh! The clip-on caddy is a brilliant addition too!
Many thanks
Neville and Catherine, Tauranga
Most items that you purchase these days are utter rubbish. I've bought barrows, which are supposed to be suitable for construction and heavy lifting and the metal in them is complete rubbish and they rust out quickly, or dent or collapse.
I bought your barrows because they looked 'reasonable' online and thought that it was worth taking a gamble and risking buying another heap of rubbish, just in case they MAY be fit for purpose.
What a surprise I got when I opened the box. The engineering and craftmanship of your product is absolutely exceptional. It's a completely brilliant design. It's strong, simple, elegant, light, well constructed, smooth tool-less and scarcely bigger than a regular barrow, but the wheels make for easy use and make small work of big bumps and the capacity is terrific. I've been over it, looking for faults, or things that you could improve on, and I've drawn a blank. I love the design and everything about it. I wish I'd known about these products years ago - the barrow can also serve as a work bench when it's not being used for barrowing.
Top marks. Totally impressed. Thanks very much. I can't think of another product that has no room for improvement.
Ross, Geraldine, South Canterbury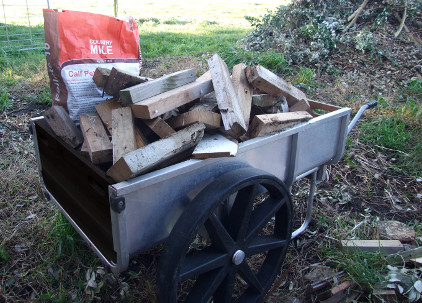 I love my Bernie's Barrow. I use it mostly around the section, doing the lawns, gardening, trimming hedges, and getting firewood. It holds so much more than a normal wheel barrow, is easy to push on all sorts of ground, even with one hand and very easy to tip loads on to the rubbish heap.
We have recently demolished a house, and I found it very useful in gathering up small bits of wood and other rubbish around the site. This was transported and tipped on to the rubbish heap without having to double handle it, while not worrying about getting a flat tyre.
I have also used it when spraying. With the two wheels and the deck being flat, it's very steady preventing the spray equipment from falling over plus it can hold all that is needed to do this job. It is also easy to take apart and put on the ute to transfer to other sites. We have found it to be extremely well-made and the design has been very well thought out for ease of use and durability. I most definitely would never part with it.
Debbie, Hawera, South Taranaki.
Jo-Anne and I saw your Bernie's Barrow at the Kapiti Sustainability show in 2013.
I was very impressed with the quality engineering, Jo-Anne was taken by the size and ease of handling, so we bought barrow number 005 that day. Five years on and we have not been disappointed.
We live on a large section and have a couple of acres of orchard, gardens and forest around our house. We have abandoned the traditional wheel barrow now, and use the Bernie's Barrow for everything.
Carting firewood, lawn clippings, branches to the mulcher, mulch to the garden, topsoil, rocks, etc has never been easier. Take off the end board and materials flow effortlessly from the barrow. It is exceptionally well balanced and Jo-Anne was so right when she identified it was easy to handle. The barrow's capacity saves us time and gets the larger jobs done more efficiently.
I also use the barrow to cart tools and safety gear when I am pruning. The chainsaw, petrol, oils, secateurs, hand saw, chaps, ear-muffs and safety hat go with me so no more running back to the garage half way through the job.
A great barrow and a 'must have' for our Lifestyle block. As a fellow engineer I still admire the engineering excellence that went into the design and construction.
Jo-Anne and Michael, Waikanae, Kapiti Coast.